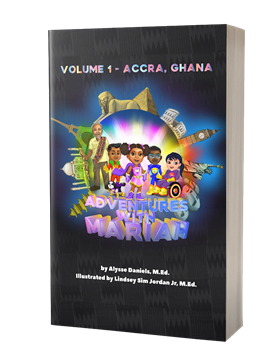 Atlanta-based author Alysse Daniels, M.Ed. encourages the participation of parents in kid's reading activities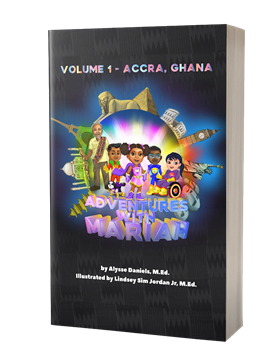 Adventures with Mariah is a book movement dedicated to encouraging the participation of parents to amplify support to make reading fun with kids
Atlanta, GA, United States – Just in time for the Holidays, Adventures with Mariah is an exciting new children's book for boys and girls, ages 5 to 10. The characters of the story Mariah and her dog Kobi, along with friends Miguel, Mark, and Madison transport to new adventures across the world with their wise Grandpa and their combined superpowers.  Illustration by Lindsey Sim Jordan Jr., M.Ed.
The book is designed to bridge cultures and inspire children through infusing history and the overall representation of the multicultural diversity as Mariah and her multicultural friends travel around the world, experiencing different customs and traditions as they solve mysteries, with the help from grandpa and their superpowers. This allows the children to be exposed to multi-generational interaction as well as encourage the participation of parents and grandparents to join in the support of Adventures with Mariah as this is an opportunity where the parents can read with kids.
Volume I consists of the customs and traditions of Accra, Ghana with many more pre and post colonialism stories to come points of interest throughout the African continent from the Democratic Republic of Congo to Egypt to Mozambique and beyond in the book series that makes reading fun! This book series may be customized to various. In the book Mariah and her friends travel to Accra, Ghana to help Nana Osei Tutu, King of Ashanti Nation, to save his daughter. Kobi, Mariah's magical dog also travels with them as they work together to solve the mystery making it a perfect example to teach children collaboration as well as problem-solving through teamwork.
Not only is this book a great stocking stuffer, but an amazing educational resource as well. It beautifully incorporates fun and deeper complex ideas such as diversity and difference of age into a book which makes it a great learning experience for the child. The best part is that through this reading activity parents can feel closer to their children, and maybe end up learning something as well from this entire experience. Their tagline "Magical adventures that make reading fun! " can come alive with the help of children, parents, and grandparents all participating in this activity making this an integral part of the overall book community.
Join the AwM! Tribe Community in support of fostering a childs love of reading where learning can be fu.  Get advance insider details about all of the latest news about Adventures with Mariah!
This volume is by a new author, Alysse Daniels, making this a black-owned storyline which makes it all the more significant to the multi diversity of literature that is available for children to read and grow with.
Register today for the Adventures with Mariah VIRTUAL Book Launch Event at AdventuresWithMariah.Eventbrite.com   
JOIN Alysse Daniels to Introduce 'Adventures with Mariah!'
Special Guest NANA OBOKESE AMPAH I, Apagyehen of Asebu, Kingdom, Ghana
Obokese University of Excellence
And More Special Surprises & Giveaways!
See the FREE LIVE Virtual Broadcast
on Saturday, December 5, 2020 @ 2:00 PM EST, 7:00 PM GMT
The Adventures with Mariah! Channel on YOUTUBE
Stocking Stuffers Idea for Children, Parents, Grandparents …and the Village!
Ask About Holiday Discounts on Group Volume Orders – Also found on #Amazon
Interview Platforms Welcomed.
Website: www.AdventuresWithMariah.com
http://www.AdventuresWithMariah.Eventbrite.com  
https://www.Instagram.com/TheAdventuresWithMariah 
https://www.Facebook.com/TheAdventuresWithMariah
https://www.Twitter.com/ReadWithMariah               
Text AwM Tribe to 22454 to JOIN the AwM! Tribe Community
Media Contact
Company Name: Adventures with Mariah!
Contact Person: Pamela McKinney, VP Marketing
Email: Send Email
City: Atlanta
State: GA
Country: United States
Website: https://www.adventureswithmariah.com/
The post Atlanta-based author Alysse Daniels, M.Ed. encourages the participation of parents in kid's reading activities first appeared on PressRelease.cc.